PROMENA IMENA ASOCIJACIJE
Odlukom Skupštine Nacionalne Asocijacije Električnih Vozila/NAEV od 26.07.2019.
i rešenjem APR-a od 15.08.2019. Asocijacija je izvršila promenu imena u:
NACIONALNA ASOCIJACIJA AUTONOMNIH I ELEKTRIČNIH VOZILA / NAAEV
National Association for Autonomous and Electric Vehicles / NAAEV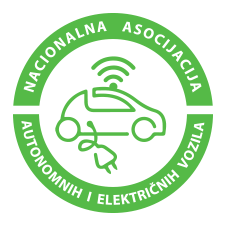 ---
SASTANAK U SOLUNU

09. Septembra 2019. stručni tim NAAEV-a biće učesnik sastanka Zajedničke Radne grupe nacionalnih asocijacija iz regiona u okviru sajma novih tehnologija i inovacija u Solunu, shodno potpisanom Memoradumu o razumevanju u Sofiji, od 26.03.2019. /Memorandum of Understanding-Regional Collaboration on Electric Mobility and Charging Infrastructure in SouthEast Europe/. Osnovna tema sastanka biće sagledavanje mogućnosi saradnje na zajedničkim projektima kroz Interreg CBC program. Ispred NAAEV-a prezentaciju projekta "Wireless Control of Chargers for Electric Vehicles" predstaviće Prof .dr Milan Prokin sa Elektrotehničkog fakulteta, Univerziteta u Beogradu.
---
POSETA BME-u i ZALAZONE
NAAEV, AINS,UDIES i SANU, 25/26. Septembra 2019. organizuju posetu zajedničkog stručnog tima Budapest University of Technology and Economics (BME) i R&D i Test Centu za autonomna vozila u Zalaegerszeg-u (ZalaZone). Sve informacije o poseti biće objavljene na sajtu NAAEV-a.