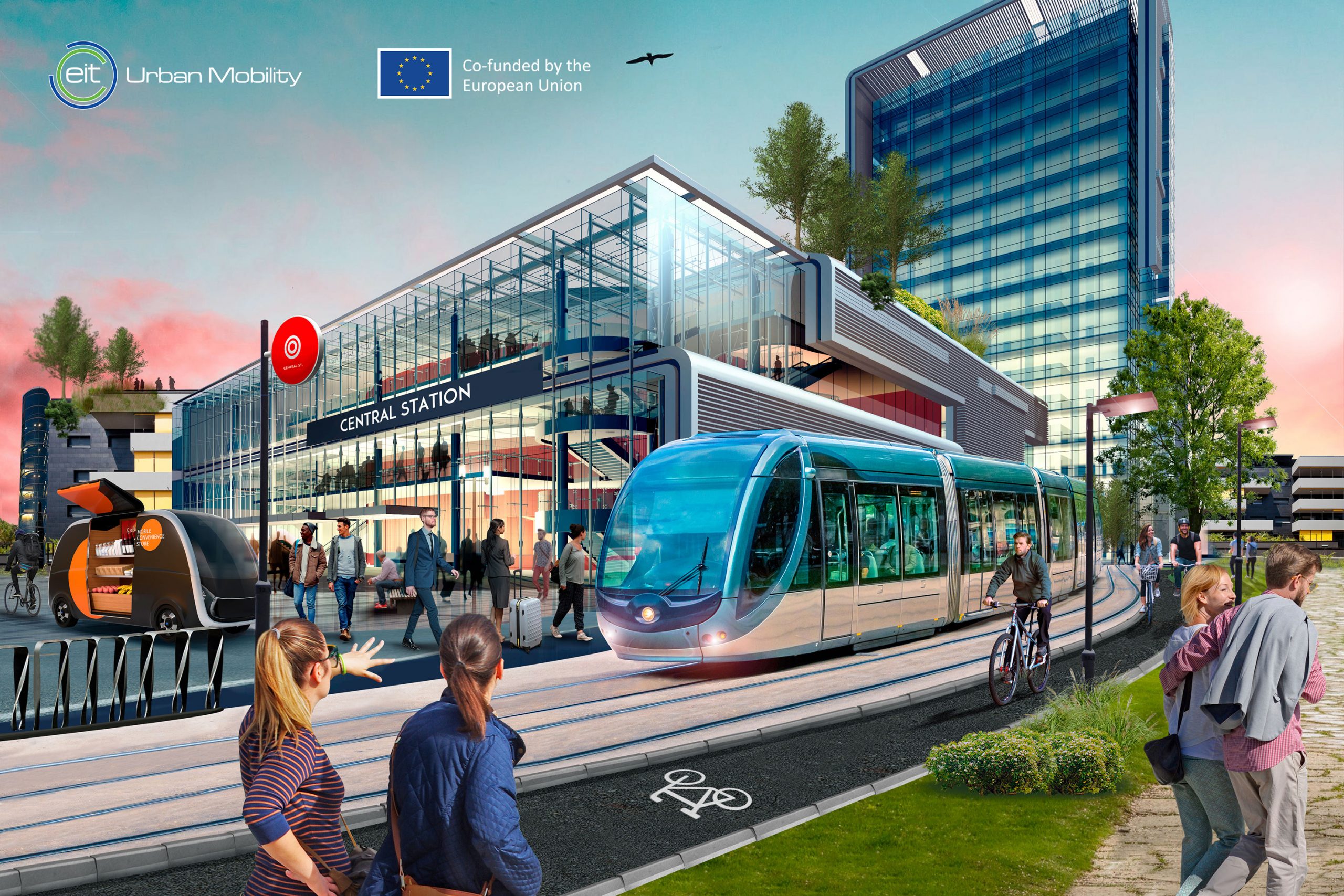 U statusu EIT UM RIS HUB SERBIA 2022, NAAEV je u okviru programa JUMPSTARTER
za partnera odabrao Inovacioni Centar ETF-a

EIT Pre-Jumpstarter Workshop
Imate ideju, ali ne znate na koji način da krenete i kako da je razvijete?
Pozivamo vas da prisustvujete radionici u sredu 30. marta od 12h u sali 62 Elektrotehničkog fakulteta,
na kojoj će učesnici imati priliku da čuju kako da od ideje dođu do uspešnog poslovanja.
Predstavićemo vam programe podrške koji vam mogu pomoći pri razvoju. Upoznaćemo vas sa EIT JUMPSTARTER programom koji je namenjen inovatorima u ranoj fazi.
Upoznaćemo vas sa fazama programa, šta on podrazumeva, za koga je namenjen kao i koje benefite dobijate učešćem na programu.
Zajedno ćemo proći kroz prijavu za program a tu smo i za sva vaša dodatna pitanja.
Kome je radionica namenjena?
Radionica je namenjena svima koji imaju ideju i razmišljaju da tu ideju razviju u proizvod ili uslugu, a ne znaju na koji način da krenu. Takođe, namenjena je svima onima koji žele da se prijave na program ranog razvoja.
Radionica pokriva inovativne ideje iz oblasti urbane mobilnosti, zdravstva, energetike,poljoprivredno-prehrambene industrije, proizvodne insustrije i druge oblasti.
Prijava
Prijava za radionicu se vrši putem sledećeg linka
 https://forms.gle/Fn39oYWFrrkuCmpD7
Radionica će biti održana u sredu 30.3. sa početkom u 12h u sali 62 Elektrotehničkog fakulteta.
Pozivamo vas da se prijavite u što većem broju!
---
EIT Jumpstarter has opened the registration for 2022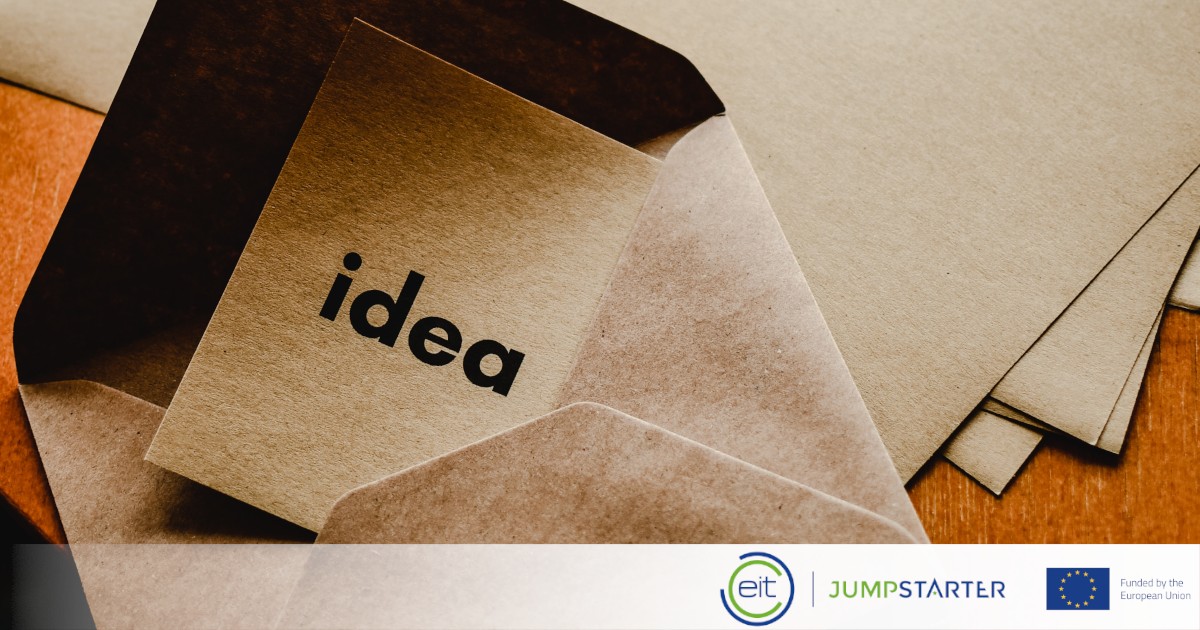 https://www.linkedin.com/posts/eitjumpstarter_eit-jumpstarter-application-form-activity-6909053033305812993-R1yv?utm_source=linkedin_share&utm_medium=member_desktop_web
---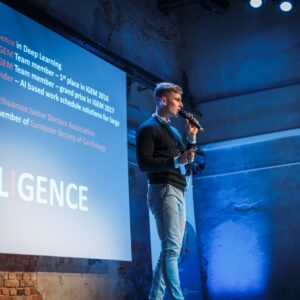 Why EIT Jumpstarter?
Do you have an innovative idea and want to jumpstart your business?
Creative community, advanced know-how, unique programme, expert trainers and mentors, this is EIT Jumpstarter. With the contribution of best-in-class experts, creative community, unique know-how our aim is to support idea-holders to turn their ideas into business. We help innovators and entrepreneurs build a viable business model around their innovative product or service idea, validate it and if their business idea is proven to be sustainable, we encourage them to register their company.
---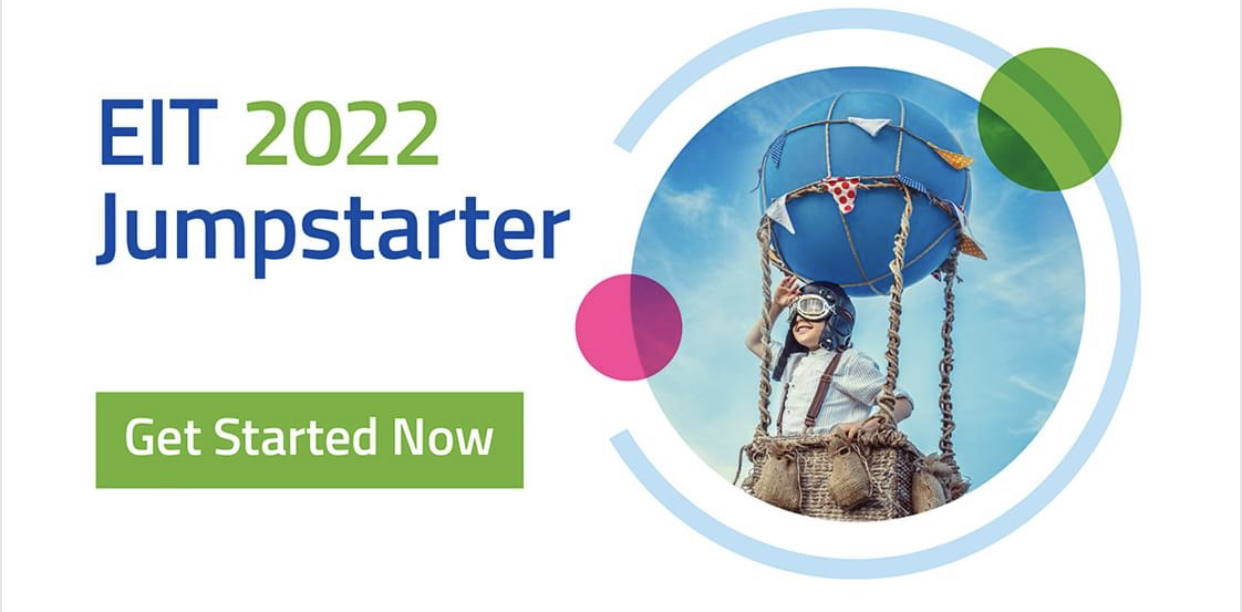 https://apply.eitjumpstarter.eu/


INICIJATIVA ZA REALIZACIJU AKCIONOG PLANA
za sprovođenje Strategije održivog urbanog razvoja Republike Srbije do 2030
za period od 2021 do 2022 godine
Na predlog MGSI, Vlada Republike Srbije je 18.03.2021. usvojila AKCIONI PLAN za sprovođenje Strategije urbanog razvoja Republike Srbije do 2030 godine za period od 2021 do 2022 godine. U usvojenom Akcionom Planu verifikovana su tri projektna predloga NAAEV-a / Nacionalne Asocijacije Autonomnih i Električnih Vozila, kao nosioca aktivnosti:
Мера 2.3.4: Увођење нових технологија у транспорту(на електропогон, нових система модуларног превоза, дељење превоза индивидуалним возилом и сл.)                                                                                                                               ДУ-ЈИ
Назив активности

Институција која спроводи активност

Oрганизације партнери

Рок за завршетак активности

Извор финансирања

Веза са програм. буџетом

Укупна процењена финансијска средства по изворима у 000 дин.

2021.

2022.

2.3.4.1 "Е-Mobility Cloud Centar" (мапа доступних пуњача за е-возила, надзор и управљање, "E-roaming")

МГСИ

НААЕВ, АИНС, УДИЕС, UNDP, МЗЖС

2021.

GEF

Буџет РС

3.500

2.3.4.2 Истраживачко-развојни и тест центар за електрична и аутономна возила и дронове

град Чачак

НТП

НААЕВ, АИНС,

УДИЕС, ИКС, МГСИ, МЗЖС, МПНТР

2022.

Буџет РС, Донацијe, Кредит, Светска банка, EBRD

350.000

450.000

2.3.4.3 "City AI" – урбана мобилност заснована на вештачкој интелигенцији

град Суботица

ЕТФ, BME, НААЕВ

2022.

Буџет РС, Донацијe, Кредит, Светска банка, EBRD

95.000

79.000
NAAEV je u septembru 2019 godine zaključio "Memorandum of Understanding Concerning Scientific, Tehnical and Commercial Cooperation" sa ZONE CLUSTER Nonprofit Ltd. koja upravlja najvećim evropskim centrom za ravoj i testiranje električnih i autonomnih vozila izgrađenom u Zalaegerszeg-u u Mađarskoj, u cilju saradnje na realizaciji izgradnje kompatibilnog centra u Srbiji i  njegovom zajedničkom korišćenju. U koordinaciji NAAEV-a, Saobraćajni, Mašinski i Elektrotehnički fakultet Univerziteta u Beogradu učesvovali su u izradi idejne projektne studije centra, "5G R&D and Test Center for autonomous vehicles and drones".
Sa  Budapest University of Technology and Economics / BME i Elektrotehničkim fakultetom Univerziteta u Beogradu NAAEV je u januaru 2021. zaključio "Memorandum of Understanding" sa ciljem zajedničke realizacije inovativnih projektnih rešenja iz urbane mobilnosti sa fokusom na upravljanje saobraćajem u realnom vremenu u urbanim sredinama baziranom na upotrebi veštačke inteligencije.
Imajući u vidu značaj i kompleksnost projekata koji su definisani u okviru Mera 2.3.4 (1-2-3) AKCIONOG PLANA, kao i postavljene rokove  NAAEV je ministru građevinarstva, saobraćaja i infrastrukture, 19.04.2021. predložio hitan sastanak na kome bi se zajednički sagledale i definisale konkretne aktivnosti u okviru mogućnosti za realizaciju usvojenih projektnih predloga.
---
---
---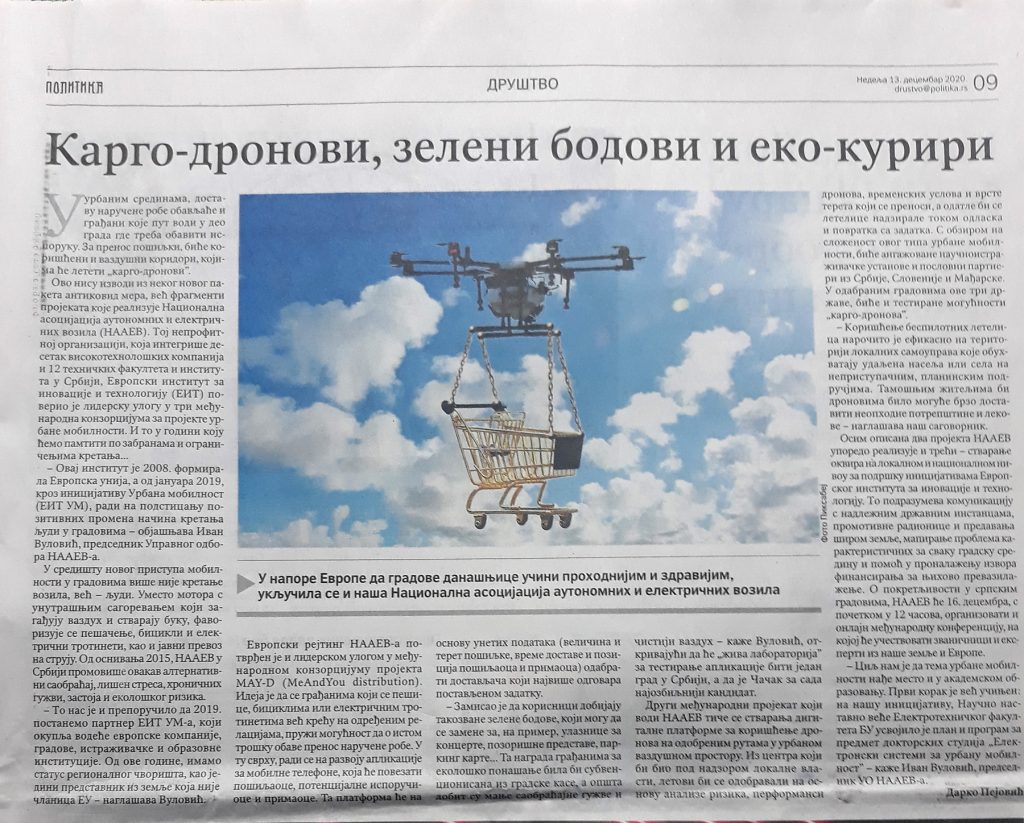 ---
POSETA:  BME/Budapest University of Technology
and Economics,  Connected and Automated Mobility Cluster of Zala i Automotive Proving Ground-ZALAZONE
25 i 26. Septembra 2019. u organizaciji NAAEV-a, tim sastavljen od eminentnih stručnjaka tehničkih fakulteta sa beogradskog, novosadskog i niškog Univerziteta kao i predstavnika ministarstva gradjevinarstva, saobraćaja i infrastrukture bio je u radnoj poseti BME-u/Budapest University of Technology and Economics, Connected and Automated Mobility Cluster of Zala i Automotive Proving Ground-ZALAZONE. U toku intezivne dvodnevne komunikacije izmedju naših i madjarskih stručnjaka fokus su bile električna i autonomna mobilnost, e-infrastruktura i 5G komunikacije. Suština je bila u razmeni iskustva i novih ideja a pre svega u sagledavanju mogućnosti saradnje na projektima(bilateralnim i multinacionalnim) iz ovih oblasti, koji su finansirani iz različitih evropskih fondova, u okviru čega madjarska strana ima respektabilna iskustva. Definisani su zajednički interesi i postavljene osnove za dalju saradnju. Potpisivanjem  dokumenta "MEMORANDUM OF UNDERSTANDING Concerning Scientific, Technical and Commercial Cooperation" izmedju Zone Klaster i The National Association of Autonomous and Electric Vehicles of Serbia / NAAEV",  stvorene su konkretne pretpostavke za direktnu saradnju izmedju članica ovih organizacija. U prilogu RTS-a, NAAEV u Mađarskoj (video) , dat je kratak prikaz ove posete a u posebnom dodatku se nalazi dokument-MoU, potpisan izmedju ZALA Klastera i NAAEV-a.
---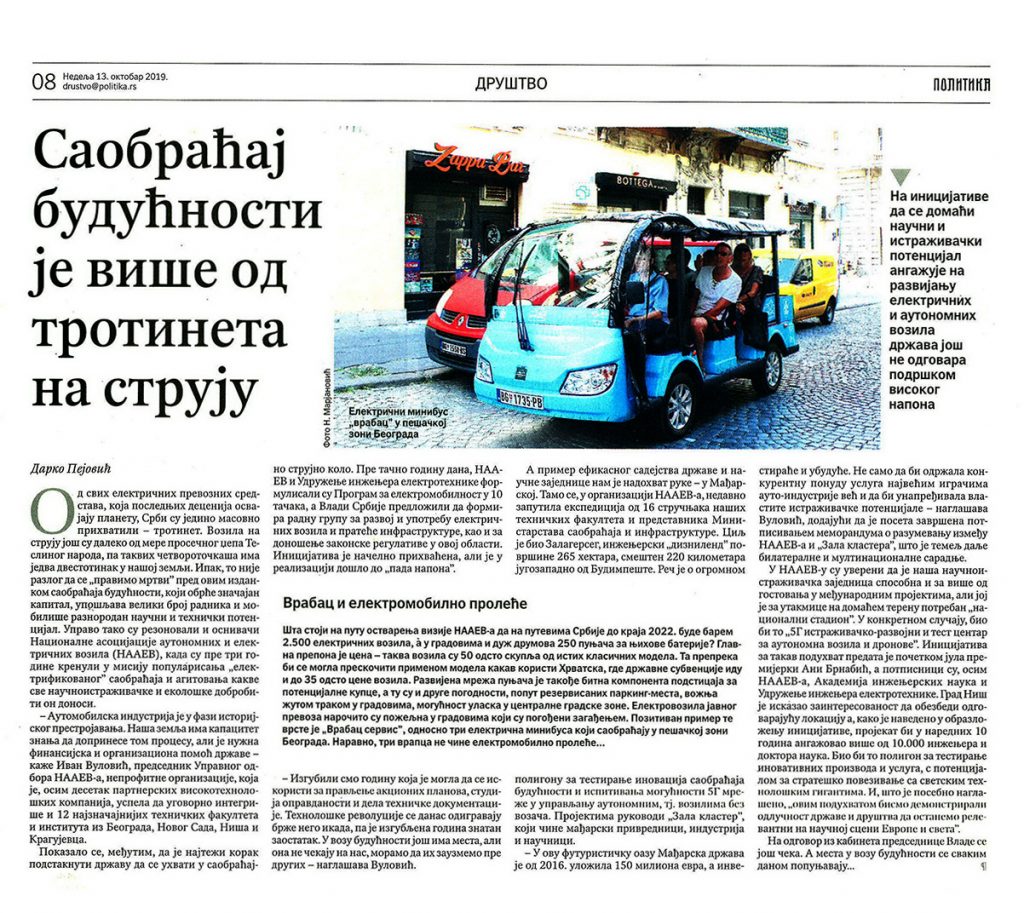 ---
Izveštaj sa sastanka u Solunu (eng)
SE EUROPE ELECTRIC MOBILITY MEETING
Thessaloniki, 09. September 2019.
Hellenic Institute of Electric Vehicles
Bulgarian Electric Vehicles Association
Association for Promoting Electric Vehicles in Romania
National Association of Autonomous and Electric Vehicles of Serbia
Association for Promoting Electric Vehicles Elektromobilnost Skopje
Based on the following Agenda:
1. Presentation of the Interreg program (Mr. Martin Zaimov – BAEPS);
2. Status of charging networks in each county and priorities (each Association);
3. Infrastructure for Fast and Super-Fast Charging Stations (Mr. Dennis Negkas – HELIEV);
4. Draft proposal for the Interreg Greece-Bulgaria and cross-border obstacles (Mr. Martin Zaimov-. . . . . . . – BAEPS);
5. Wireless Control of Chargers for Electric Vehicles (Prof.dr Milan Prokin – NAAEV);
6. Establishment of a Joint Working Group (Dr Radomir Zikic – NAAEV)
Conclusions of the meeting:
The Electric and Autonomous Mobility Associations of the five Balkan countries, signatories to the Memorandum of Understanding – Regional Collaboration on Electric Mobility and Charging Infrastructure in SouthEast Europe, met during the Thessaloniki fair to discuss ways of further cooperation.
All agree that electrically powered vehicles will replace those with internal combustion within the next ten to twenty years.
Sustainable mobility and the Climate crisis are top priorities of the European Union and of each of our countries.
We discussed in great detail one of the main obstacles for the faster and wider adoption of electric vehicles – the necessary investment in charging stations that have to be constantly available to the general public. This applies even more to cross-border mobility.
One of the most widely used EU subsidies have been those of the Interreg IPA CBC programs, seven of which concern our countries.
The five associations shall take an active role in shaping the next operational period 2021-27 and thus ensure that EU support will be available for boosting electric and autonomous mobility in our five countries.
The five associations established a joint working group/JWG for the pragmatic achievement of our common goals.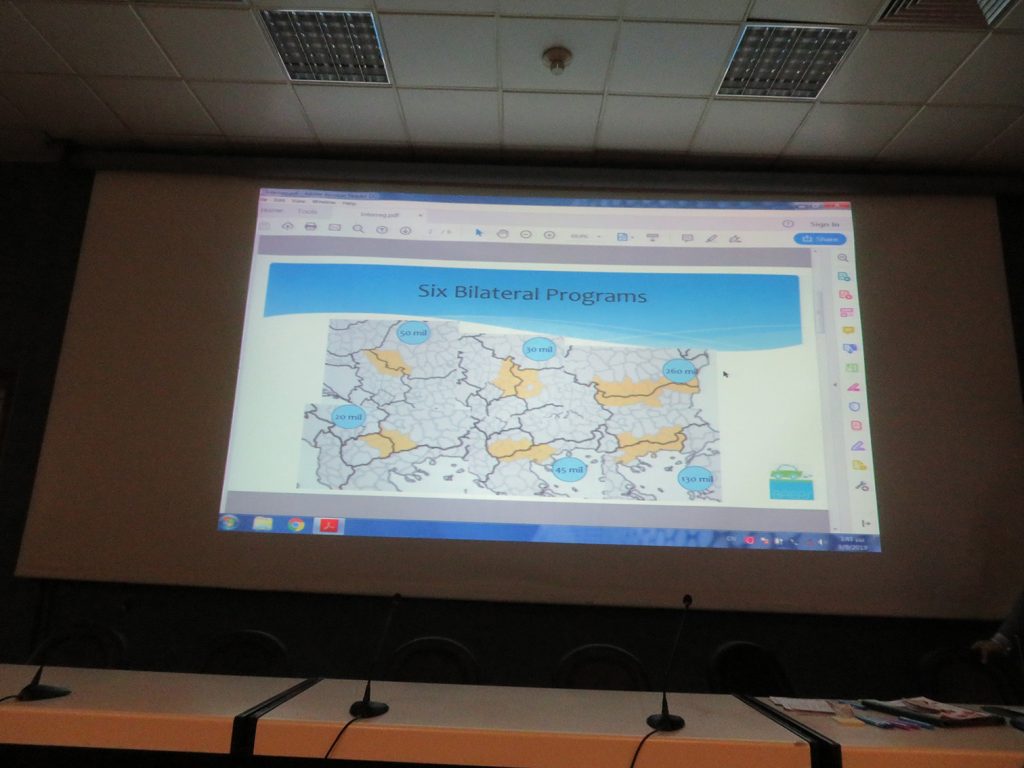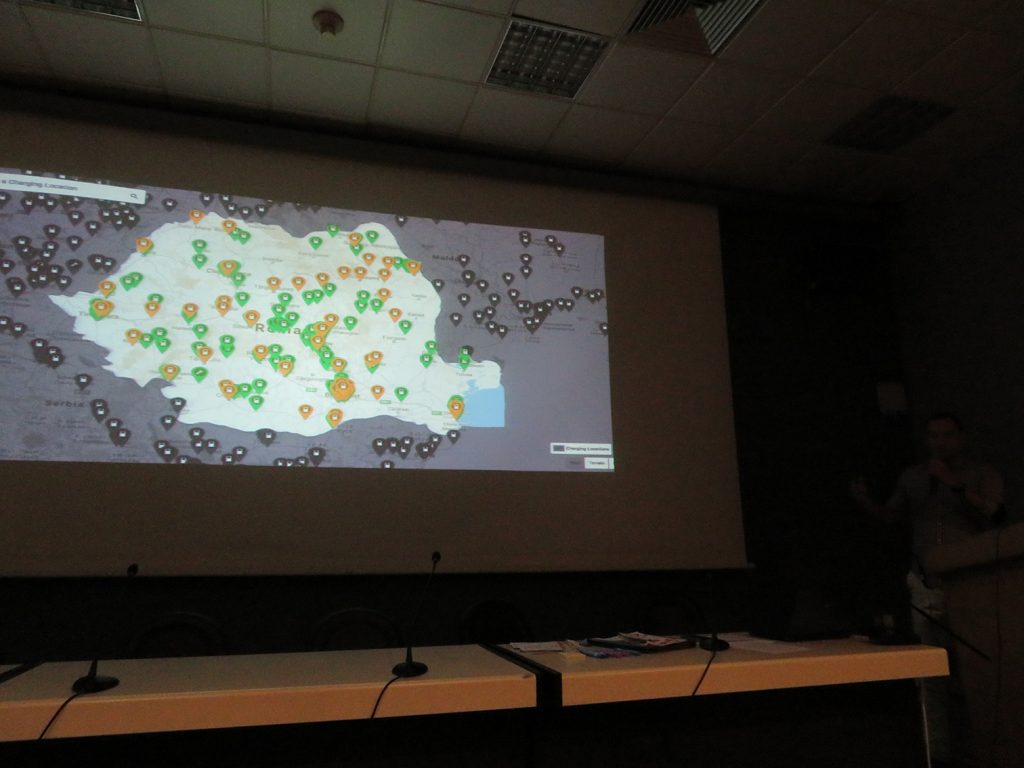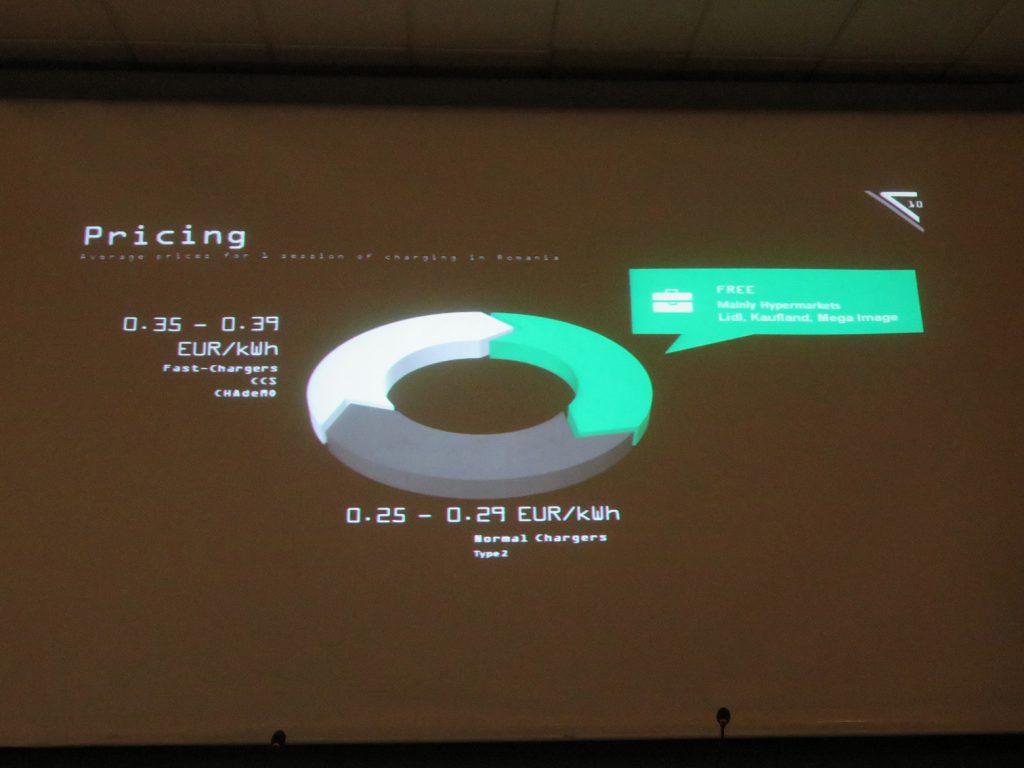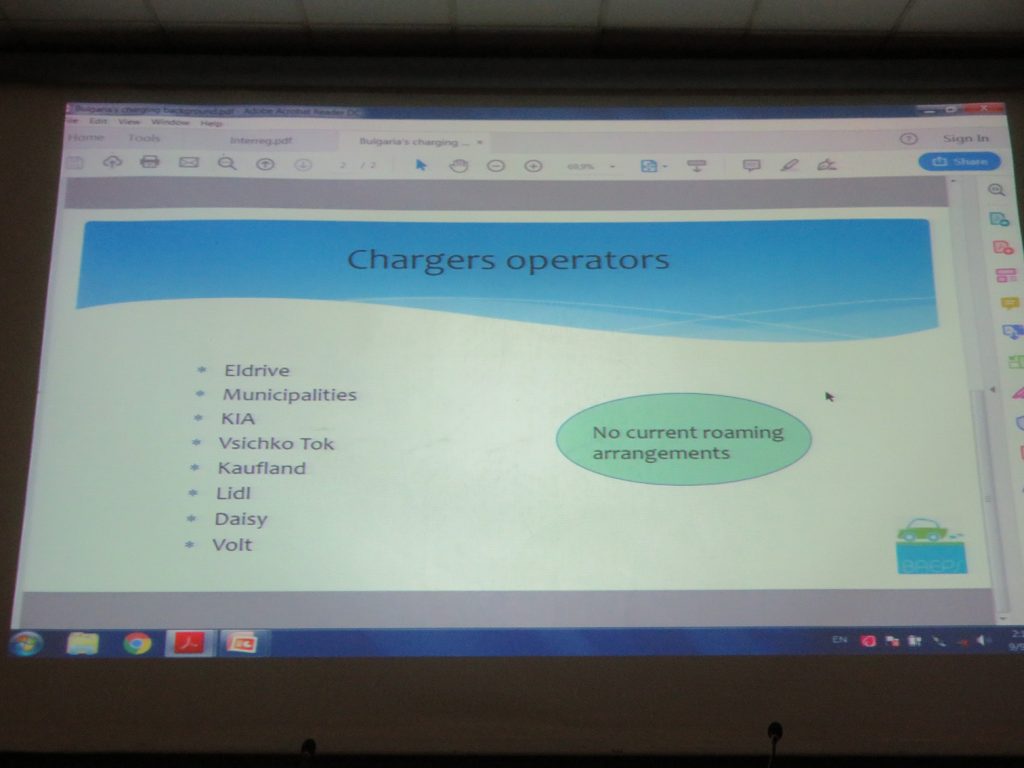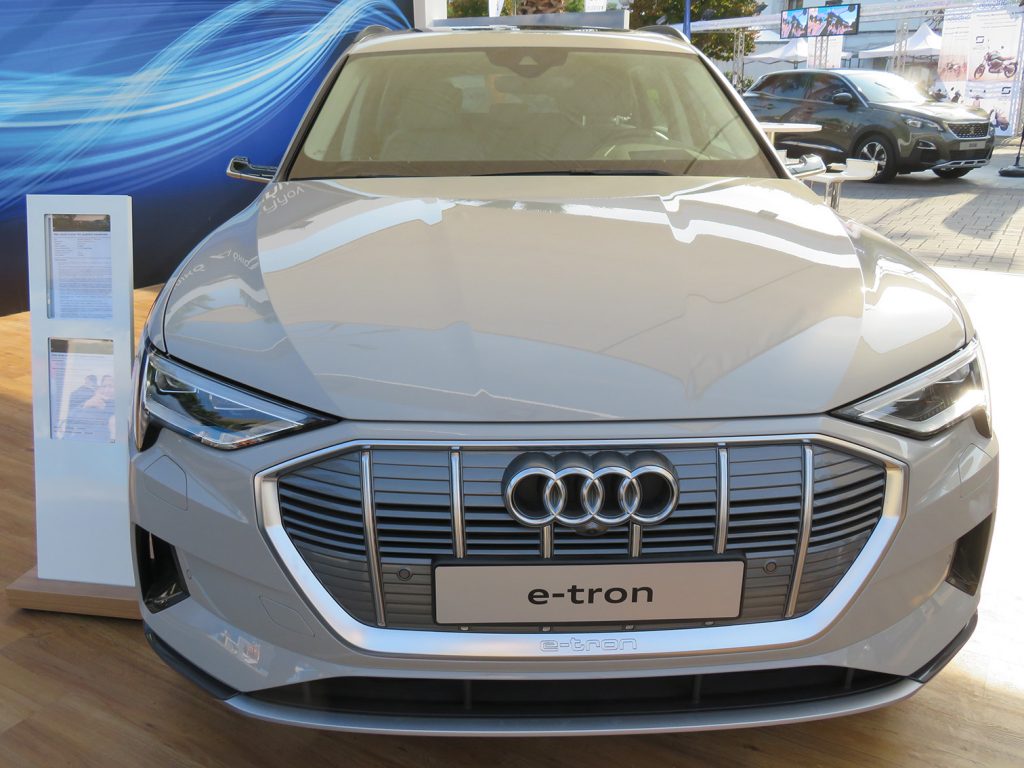 ---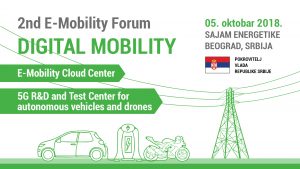 Budućnost transporta ka kojoj se krećemo je definitivno električna i autonomna, suštinski digitalna. Vozilima će u ne tako dalekoj budućnosti u potpunosti upravljati softver odnosno veštačka inteligencija. Nivo autonomije 5 koji podrazumeva potpuno isključivanje čoveka kao subjekta u upravljanju vozilom je cilj koji je realno dostižan u narednih 10 godina.
NAEV/Nacionalna Asocijacija Električnih Vozila i UDIES/Udruženje Inženjera Elektrotehnike Srbije su u okviru Sajma Energetike u Beogradu, 05.10.2018., pod pokroviteljstvom Vlade Republike Srbije i Kancelarije za informacione tehnologije i elektronsku upravu, organizovali II E-Mobility Forum 2018., pod naslovom "DIGITAL MOBILITY". Forum je kao izaslanik predsednice Vlade  otvorio Doc.dr Mihailo Jovanović, direktor Kancelarije za informacione tehnologije i elektronsku upravu. Prema Vladi Srbije upućena je Inicijativa sa "10 predloga za električnu mobilnost Srbije".
U okviru Foruma prezentovana su dva infrastrukturna projekta, "E-Mobility Cloud Center" i "5G R&D and Test Center for autonomous vehicles and drones", koje su inicirali NAEV i UDIES u saradnji sa ETF-om, Saobraćajnim i Mašinskim Fakultetom Univerziteta u Beogradu. Projekte su predstavili članovi kreativnog tima NAEV-a, Nemanja Stepanović, Saobraćajni fakultet BU, Dragan Stamenković, Mašinski fakultet BU i dr.Milan Čabarkapa sa ETF-a BU. Na Forumu su sa izuzetnom pažnjom saslušana zanimljiva izlaganja  eminentnih naučnih i stručnih članova i partnera NAEV-a, izmedju ostalih, Aleksandra Jakovljevića direktora sektora za strategiju EPS-a, Prof.dr Milana Prokina sa ETF-a, Prof.dr Aleksandra Neškovića, sefa katedre za telekomunikacije ETF-a, Prof.dr Djuradja Budimira, Faculty of Science and Technology, Universuty of Wenstminster, Msc Jelene Stojković ETF BU, Marije Novakovic predstavnika Siemensa, Vladana Lapčevića predstavnika M&C kao i Nebojše Zdravkovica predstavnika BMW-a.
Zaključak i poruka Foruma je da su razvojni i istraživački projekti u okviru E-mobilitija suštinska šansa Srbije da uhvati priključak u ovoj visoko tehnološkoj i profitabilnoj oblasti. Na tom putu NAEV i UDIES su svojim kapacitetima sposobni da budu kontakt tačka i koordinatori za kompanije i naučnoistraživačke i razvojne institucije sa ciljem da ih kroz svoje aktivnosti uključe u različite projekte istraživanja, razvoja i izrade električnih i autonomnih vozila i njihovih komponenti kao i razvoja, izgradnje i upravljanja mrežom e-infrastrukture.
prezentacija 1_NAEV I E-MOBILITY FORUM 2018
prezentacija 2_E-Mobility 2018
prezentacija 3_5G R&D Test Centar za autonomna vozila
prezentacija 4_DJB_E-Mobility forum
prezentacija 5_JS_Uticaj povećane penetracije e-vozila na elektroenergetsku mrežu i druge potrošače
prezentacija 6_Emobility Cloud Center
prezentacija 8_Upravljanje infrastrukturom za punjenje EV
prezentacija 9_Emobility forum
prezentacija 10_NAEV_EMobilityForum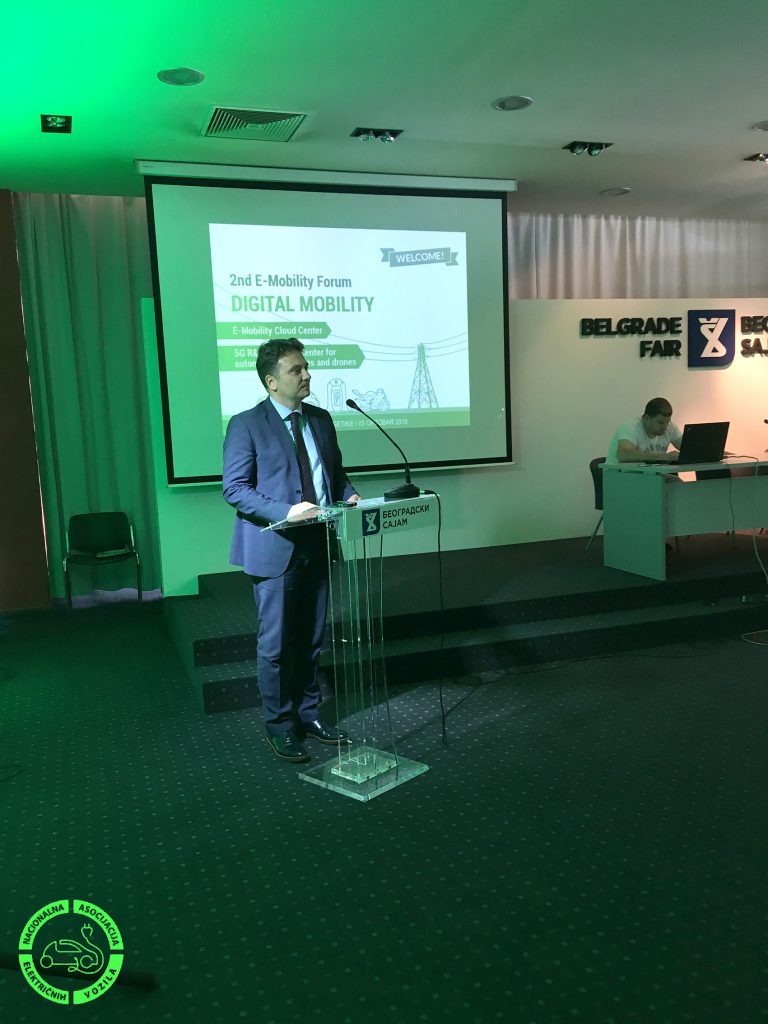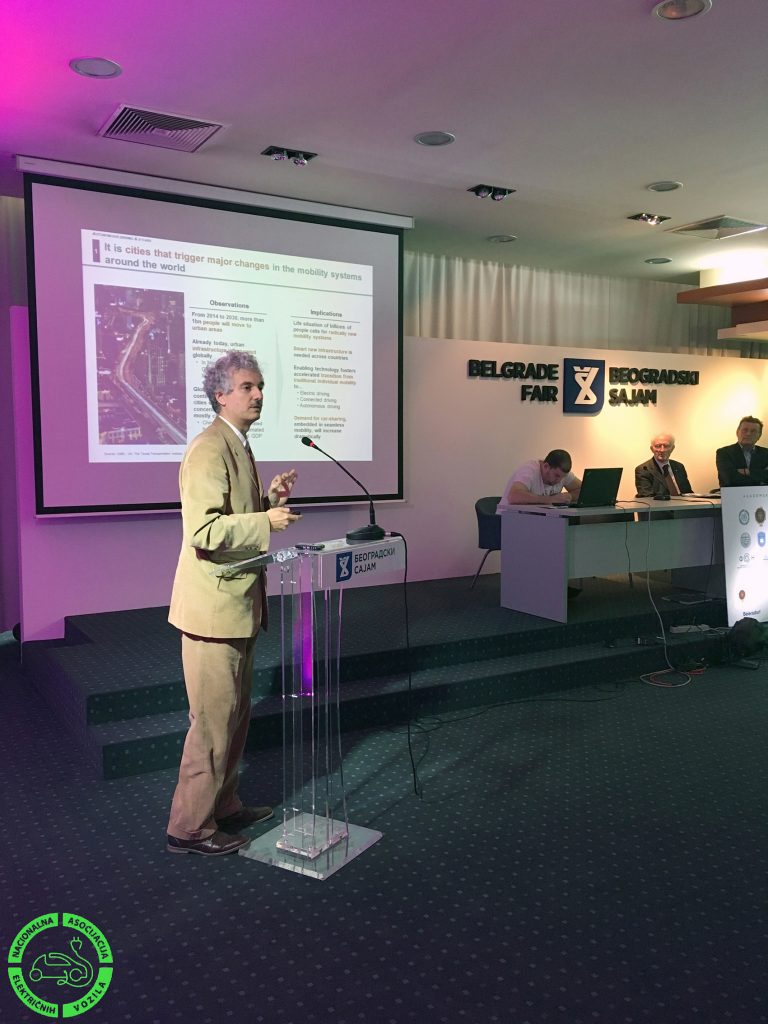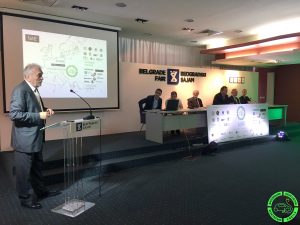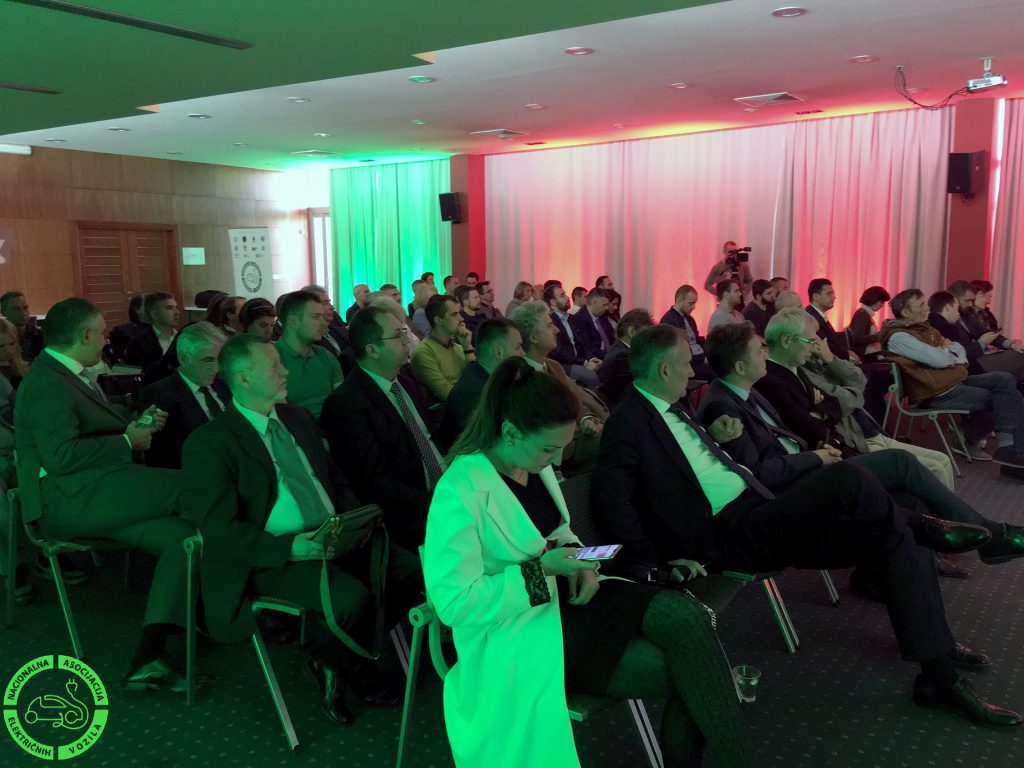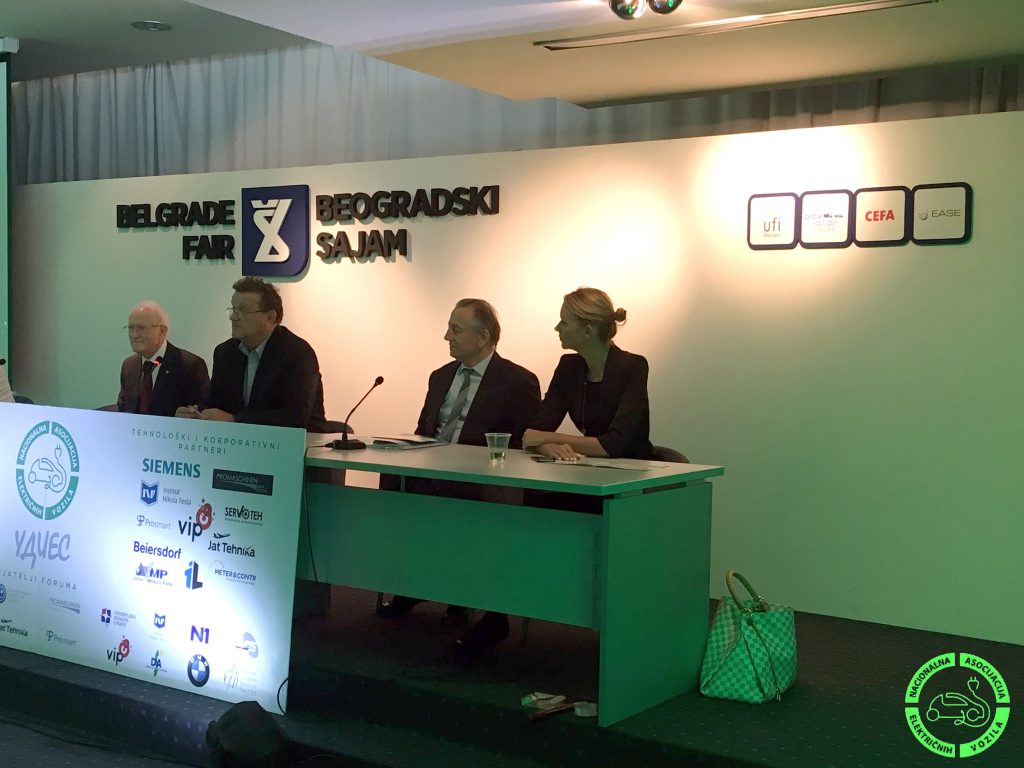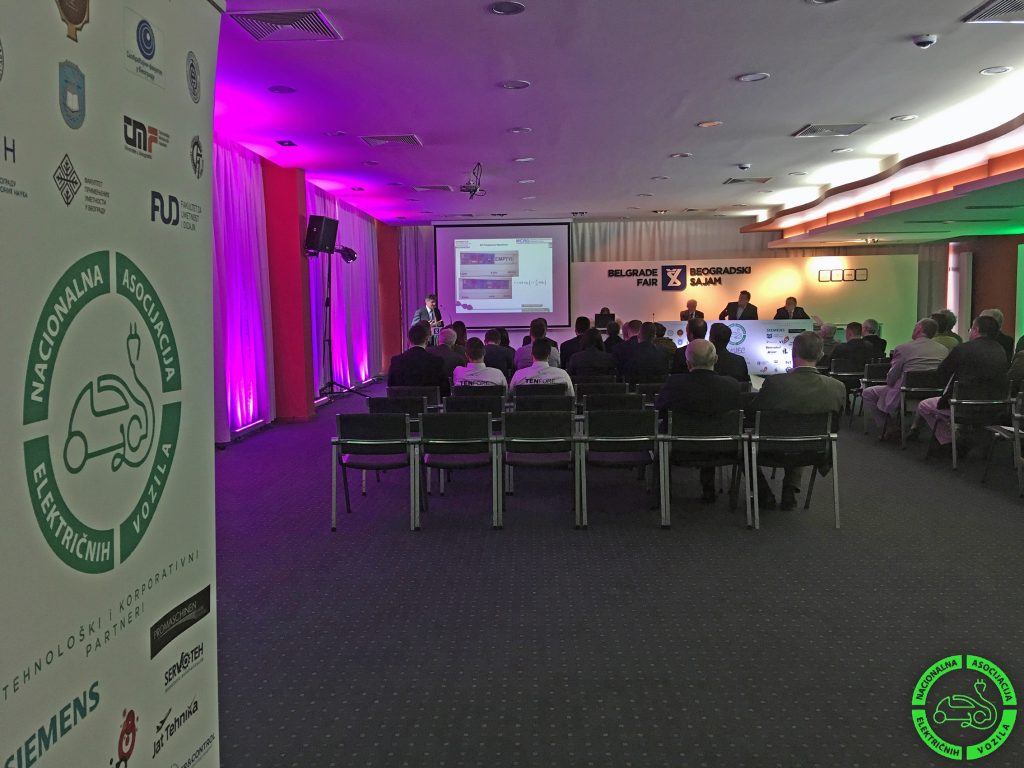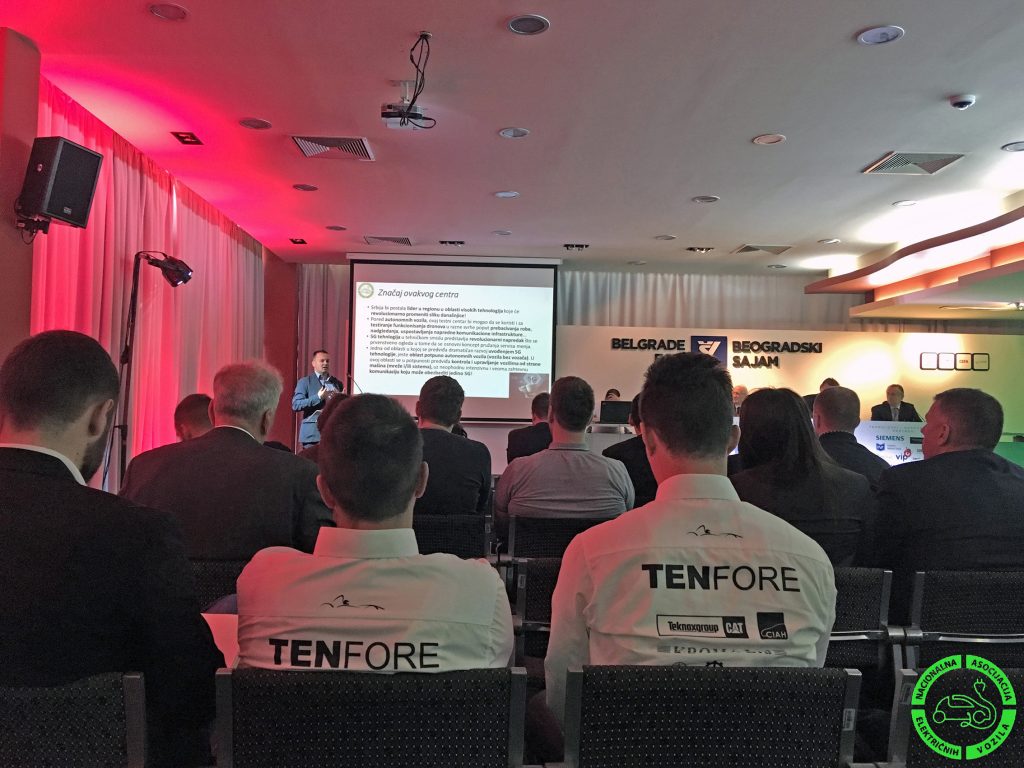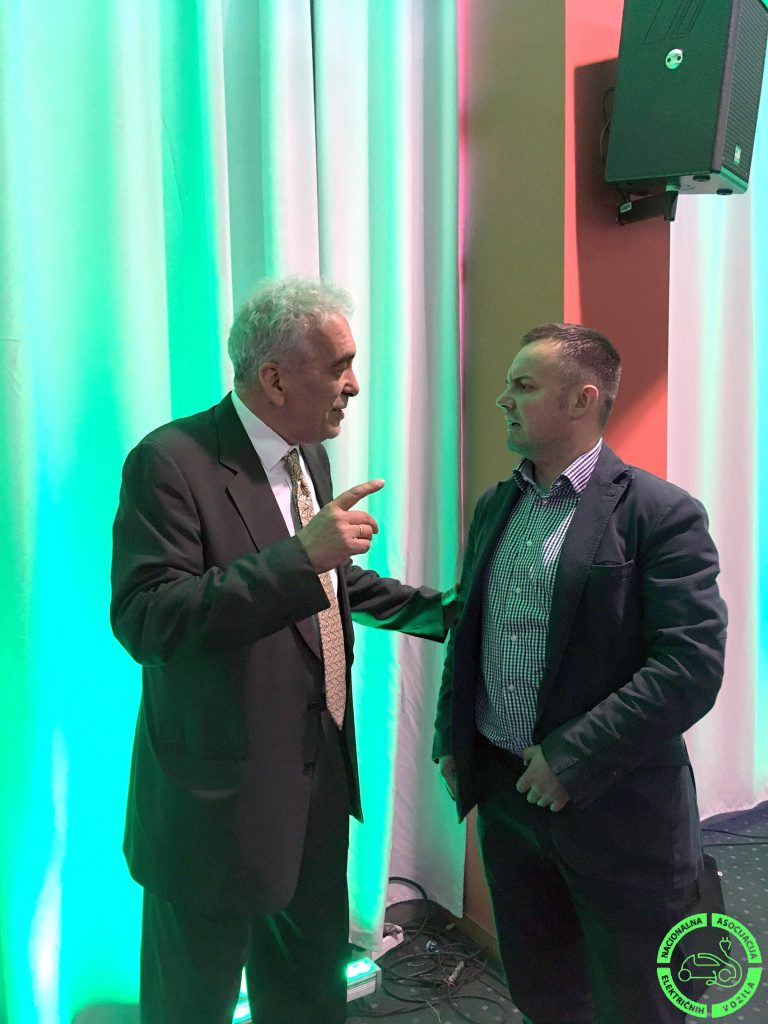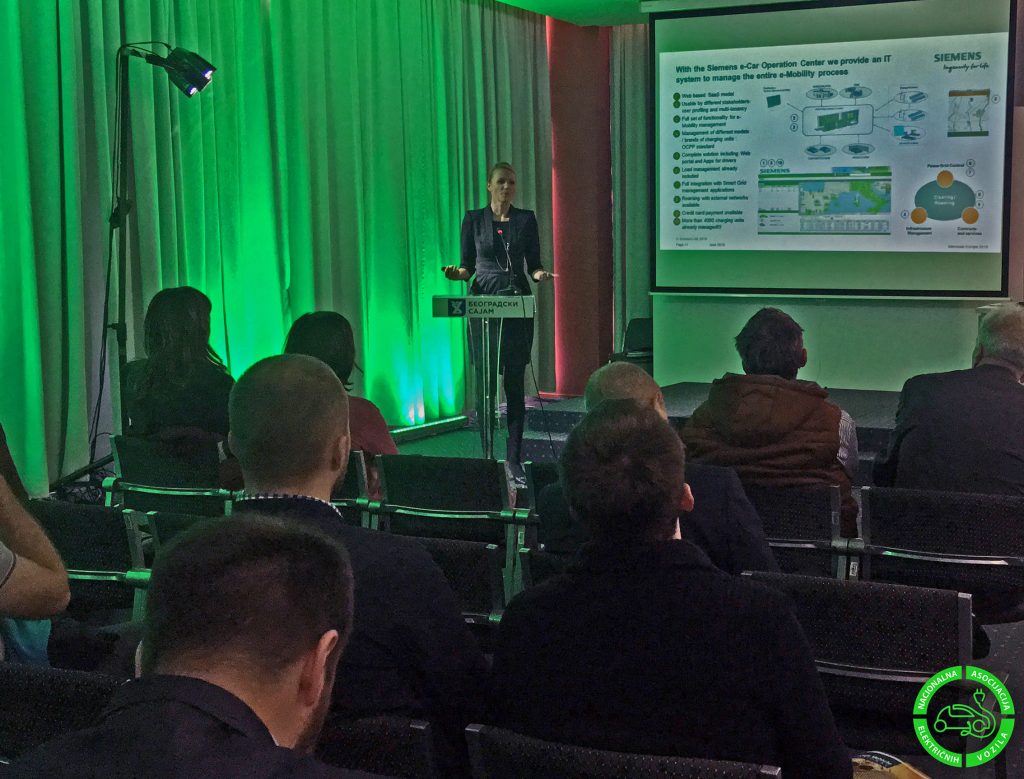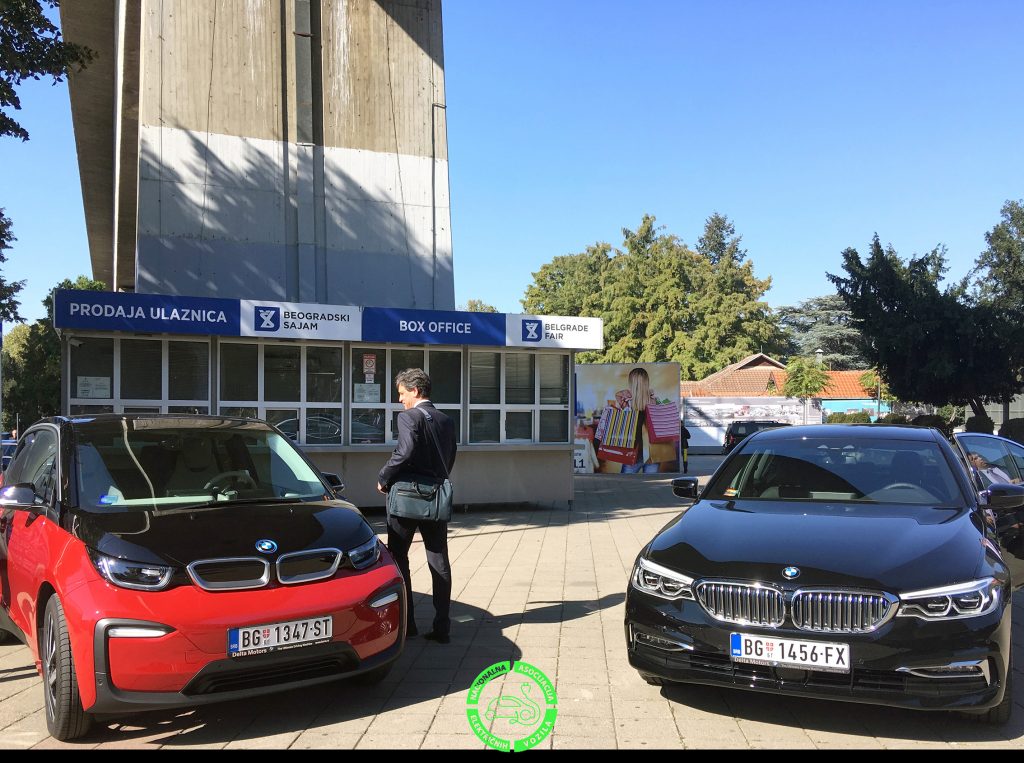 E-mobility development could create 16,000 jobs, EUR 1.4 billion in added value by 2025
E-MOBILITY FORUM 2017
BEOGRAD, 06.10.2017.
ZAKLJUČCI FORUMA
U skladu sa sagledanim mogucnostima za uključenje srpske nauke i privrede u projekte razvoja i proizvodnje komponenata i proizvoda iz oblasti energetske elektronike i e-mobilitija, kao i razvoja novih inovativnih tehnologija E-MOBILITY FORUM 2017 doneo je sledeće ZAKLJUĆKE :
podsticati stvaranje uslova za ostvarivanje saradnje izmedju nadleznih drzavnih organa, naucnoistrazivackih ustanova i privrede sa ciljem ukljucenja domacih potencijala u projekte energetske elektronike i e-mobilitija.
obrazovati Radne grupe uz ucesce predstavnika nadleznih ministarstava , PKS-a, naucnoistrazivackih ustanova, privrede , NAEV-a i UDIES-a sa jasno definisanim zadacima I rokovima za sledece oblasti:
E-VOZILA : ( izradu prototipova e-vozila; razvoj novih e-vozila; preradu serijskih vozila u elektricna; obuku za proizvodjace i programere e-vozila I obuku za servisere elektricnih I hibridnih vozila)
BATERIJE : (razvoj I proizvodnja e-baterija)
E-INFRASTRUKTURA : (razvoj i proizvodnja infrastrukturne opreme za punjenje e-vozila/punjaci; stanice; pametne mreze)
PREDLOG TARIFA : ( definisanje predloga tarifa i inacina merenja utroska elektricne energije kod punjenja e-vozila)
E- studentska formula : ( 4X razvoj i izrada studentske E-formule)
a) podsticati uspostavljanje saradnje na projektima sa AVERE-om/The European Association for Electromobility kao i ucesce u evropskim programima :HORISON i COSME

b) uspostavlanje i inteziviranje saradnje sa regionalnim partnerima (BAEPS, DEVS, HEA …)
Sve prezentacije sa E-MOBILTY FORUMA možete preuzeti sa sledećeg linka:
Sve PRESS objave možete pogledati na linkovima koji slede:
https://www.bizlife.rs/biznis/poslovne-vesti/made-in-serbia-punjaci-za-elektromobile/
ODRŽAN E MOBILITI FORUM U OKVIRU SAJMA ENERGETIKE
Održan E-mobiliti forum u okviru sajma energetike
https://juznobanatskevesti.rs/zarko-korac-i-radoslav-cebic-gosti-novog-dana/
E-MOBILITY FORUM 2017