---

Evropski institut za inovacije i tehnologiju (EIT) je telo EU koje je Evropska unija osnovala 2008. godine da bi ojačala sposobnost Evrope za inovacije. EIT je sastavni deo programa Horizon 2020, Okvirnog programa EU za istraživanje i inovacije.

Cilj EIT-a je da postane najveća evropska inicijativa kojom se transformiše urbana mobilnost. Sufinansiranjem projekata u periodu 2020-2026 u iznosu od 400 miliona eura EIT će podržati postavljene ciljeve.
Od septembra 2019 godine NAEEV je u statusu mrežnog partnera EIT UM-a (European Institute of Innovation and Technology-Urban Mobility).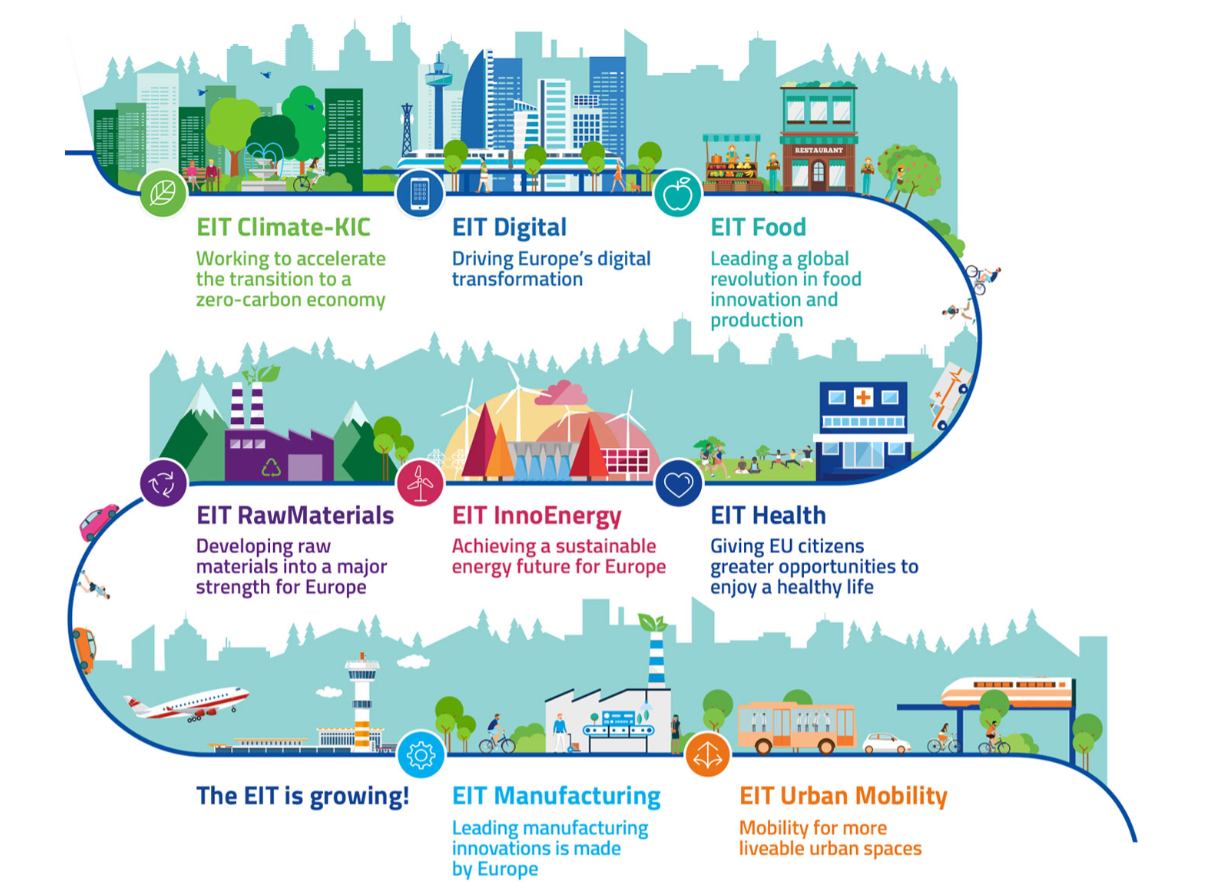 ---

EIT Urban Mobility je inicijativa Evropskog instituta za inovacije i tehnologiju (EIT). Od januara 2019. radi na podsticanju pozitivnih promena u načinu na koji se ljudi kreću po gradovima sa ciljem stvaranja funkcionalnije i zdravije životne sredine.
EIT Urban Mobility ima pet inovacijskih čvorišta (HABOVA) širom Evrope, sa centralnim sedištem u Barseloni. Inovativno Čvorište Istok/Innovation Hub East/, sa sedištem u Pragu, obuhvata osam zemalja /Češka, Nemačka (Centralna), Mađarska, Izrael, Poljska, Rumunija, Srbija, Slovačka/.
Partneri EIT UM-a su vodeće evropske kompanije, istraživačke i obrazovne institucije i gradovi. Svi oni pružaju podršku i aktivno su angažovani putem inovacijskih čvorišta pokrivajući ceo lanac vrednosti, od vozila i saobraćajnih tehnologija do urbanističkog planiranja, usluga podataka, energetike, maloprodaje, finansijskih usluga i inženjeringa.
---
Zajednica EIT urbane mobilnosti
Tematske oblasti koje obuhvataju projektne aktivnosti NAAEV-a u okviru EIT UM-a su:
– EIT Urban Mobility Hubs 2020
– Inovation projects RIS 2020/2021
– Innovation, Business Creation, Citizen Engagement 2021/2022
---
ACADEMY AND RIS EDUCATION CALL                              
28.04.2022.
Dear Colleagues at the RIS Hubs,
We are happy to announce that the Academy and RIS Education Call will be launched this week, on Thursday, April 28th. The RIS Education Call will fund education activities in RIS countries, and you will find that some eligible themes align with the interests and needs you have expressed in the last few months.  To present the call, we will organize several info sessions to which you are invited to participate:
Wednesday, May 4, 14:00-15.30:the main info session about the Academy and RIS Education calls will be held where the entire call will be presented. You can register to this event here: Info session on Academy and RIS Education Calls: Specific Call Requirements – EIT Urban mobility
Thursday, May 5, 11.00-12.30: the session about evaluation of proposals and plaza training will be organized. You can register to this event here: Info session on Academy and RIS Education Calls: Evaluation and Plaza Training – EIT Urban mobility
On top of this, we will take the opportunity to give a short presentation about the RIS part of the education call during the RIS Hubs Monthly Meeting on Wednesday, May 4, 30-11.30am.
Can you also please distribute this information to the relevant stakeholders in your network?
 We would also like to disseminate the call further in your respective countries. I would like to ask you the following:
Are there any EIT UM events in your countries in May which could be used as an opportunity to disseminate the call? If yes, please let me know and we can discuss together how to proceed.
We would also be happy to organize additional info sessions for the partners in your network if you consider it useful and necessary. Please let me know if there is such need.
 Should you have any questions, do not hesitate to contact me. We would like to give you all the necessary information to help you or organizations in your network prepare your proposal.
Best regards,
Katarzyna Janusz
RIS Education Officer – Academy
---
EIT UM – NAAEV / SGA RH SERBIA 2022


07.04.2022. NAAEV je sa EIT KIC Urban Mobility potpisao "Sub- Grant Agreement" – under RIS Programme, prema kome je odobren Business Plan koji je NAAEV podneo za 2022 godinu, shodno čemu je NAAEV u okviru EIT UM-a zadržao status kao EIT UM RIS HUB SERBIA.
Konferenciji svih HAB-ova EIT UM-a koja je održana u Budimpešti 08/09.03.2022. kao predstavnici NAAEV-a prisustvovali su prof.Milan Prokin, predsednik Stručnog saveta i inž.Dalibor Ignjatović, project manager NAAEV-a. Business Plan 2022 koji je NAAEV prezentovao na ovoj konferenciji proglašen je najboljim od prezentovanih dvanaest od strane svih dvanaest EIT UM HUB-ova. Shodno ovom Planu NAAEV će svoje aktivnosti u statusu RIS HUB Serbia u 2022 godini usmeriti pre svega u okviru Innovation Calls, Academy, Business Engagement i Public Realm.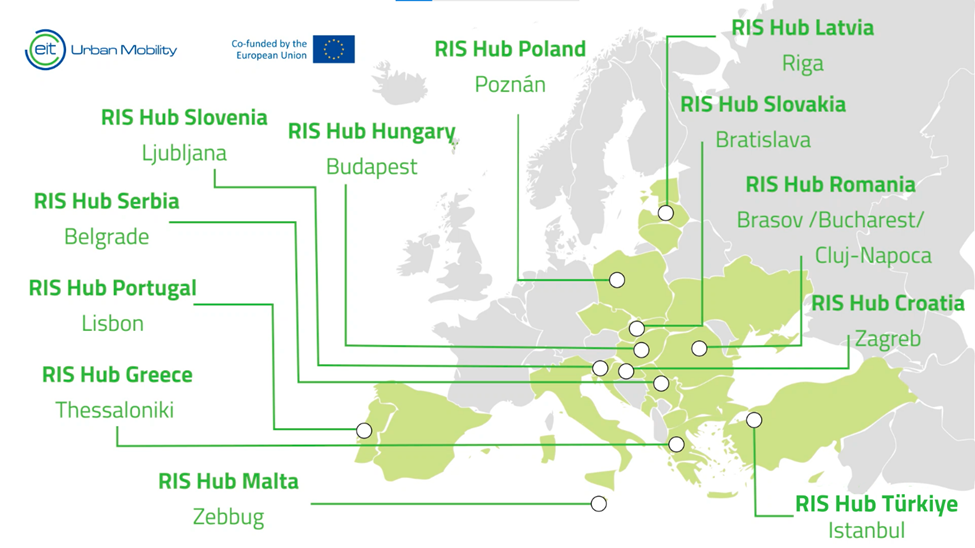 Regional Innovation Scheme – EIT Urban Mobility
---
NACIONALNI URBANI FORUM SRBIJE
Beograd, 11/12.04.2022.
 Prvi Nacionalni Urbani Forum sa temom održivog urbanog razvoja održan je kao dvodnevni skup u organizaciji MGSI-ja/Ministarstvo gradjevine, saobraćaja i infrastrukture, UN Habitata i SKGO-a/Stalne konferencije gradova i opština. Tom prilikom razmenjena su mišljenja i predložena rešenja na polju urbanog razvoja republike Srbije pred Svetski urbani forum koji se u junu 2022 godine održava u poljskim Katovicama.
Forum je održan u skladu sa preporukama UN Habitata koje su prepoznate u Strategiji održivog urbanog razvoja čiji je Akcioni Plan za period 2021/2022 u martu 2021 godine usvojila Vlada Srbije.
U okviru Foruma, od strane predstavnika World Bank je detaljno analiziran kreditni aranžman koji je u saradnji sa francuskom Razvojnom Agencijom-AFD, u iznosu od 300 miliona dolara, zaključen sa Republikom Srbijom, za potrebe finansiranja projekta lokalne infrastrukture i institucionalnog razvoja, LIID / Local Infrastructure and Institutional Development.
"Ovo je prvi projekat Svetske Banke koji se direktno fokusira na lokalne samouprave u Srbiji kako bi im pomogao da poboljšaju kvalitet života gradjana"rekao je Nikola Pontara, menadžer WB u Srbiji.
Dr Svetlana Vukanović, Senior Transport Specialist with the Transport&ICT Global Practice at World Bank, u okviru analize projekta LIID iznela je podatak da je iznos od 1,5 miliona dolara,  namenjen izradi projektne dokumentacije za projekat "5G R&D and Test  Center for autonomous vehicles and drones", definisan Akcionim Planom Strategije održivog urbanog razvoja koji je usvojila Vlada Republike Srbije.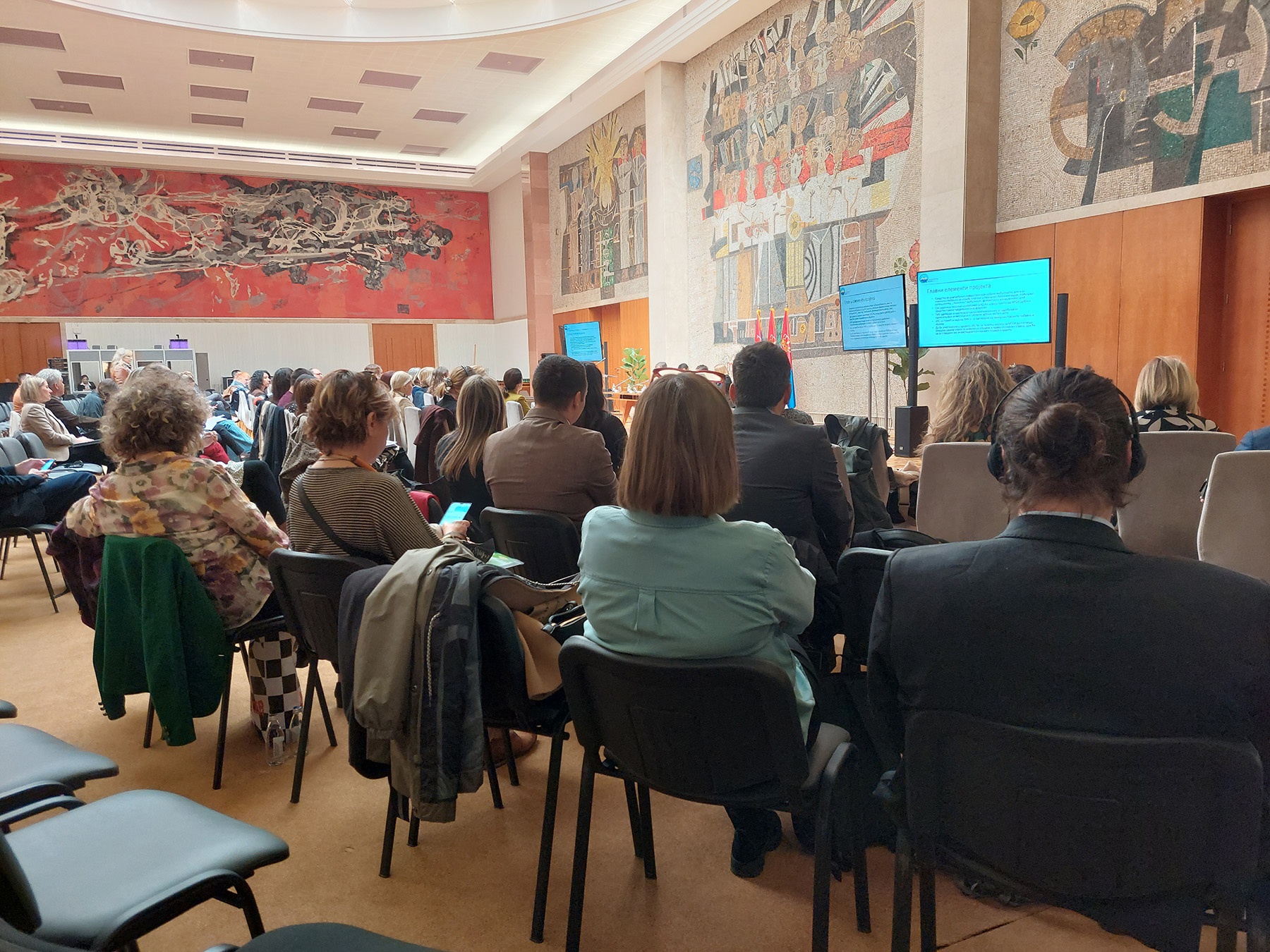 EIT Pre-Jumpstarter Workshop
Imate ideju, ali ne znate na koji način da krenete i kako da je razvijete?
Pozivamo vas da prisustvujete radionici u sredu 30. marta od 12h u sali 62 Elektrotehničkog fakulteta,
na kojoj će učesnici imati priliku da čuju kako da od ideje dođu do uspešnog poslovanja.
Predstavićemo vam programe podrške koji vam mogu pomoći pri razvoju. Upoznaćemo vas sa EIT JUMPSTARTER programom koji je namenjen inovatorima u ranoj fazi.
Upoznaćemo vas sa fazama programa, šta on podrazumeva, za koga je namenjen kao i koje benefite dobijate učešćem na programu.
Zajedno ćemo proći kroz prijavu za program a tu smo i za sva vaša dodatna pitanja.
Kome je radionica namenjena?
Radionica je namenjena svima koji imaju ideju i razmišljaju da tu ideju razviju u proizvod ili uslugu, a ne znaju na koji način da krenu. Takođe, namenjena je svima onima koji žele da se prijave na program ranog razvoja.
Radionica pokriva inovativne ideje iz oblasti urbane mobilnosti, zdravstva, energetike,poljoprivredno-prehrambene industrije, proizvodne insustrije i druge oblasti.
Prijava
Prijava za radionicu se vrši putem sledećeg linka
 https://forms.gle/Fn39oYWFrrkuCmpD7
Radionica će biti održana u sredu 30.3. sa početkom u 12h u sali 62 Elektrotehničkog fakulteta.
Pozivamo vas da se prijavite u što većem broju!
---
EIT Jumpstarter has opened the registration for 2022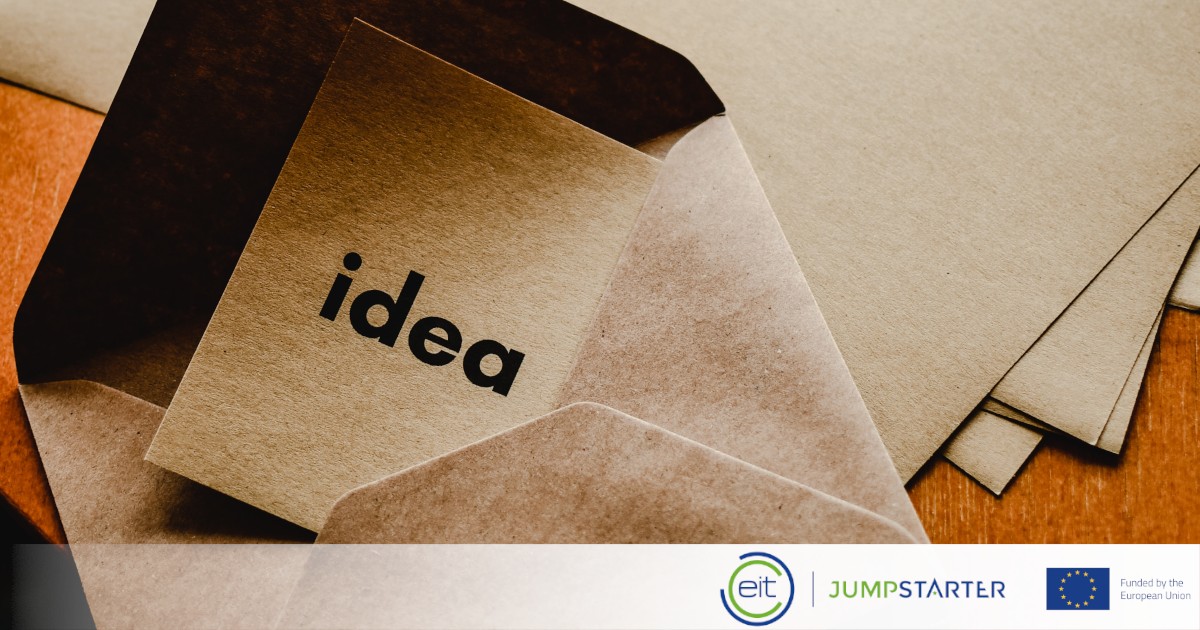 https://www.linkedin.com/posts/eitjumpstarter_eit-jumpstarter-application-form-activity-6909053033305812993-R1yv?utm_source=linkedin_share&utm_medium=member_desktop_web
---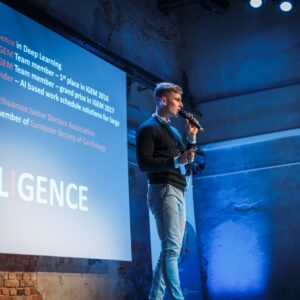 Why EIT Jumpstarter?
Do you have an innovative idea and want to jumpstart your business?
Creative community, advanced know-how, unique programme, expert trainers and mentors, this is EIT Jumpstarter. With the contribution of best-in-class experts, creative community, unique know-how our aim is to support idea-holders to turn their ideas into business. We help innovators and entrepreneurs build a viable business model around their innovative product or service idea, validate it and if their business idea is proven to be sustainable, we encourage them to register their company.
---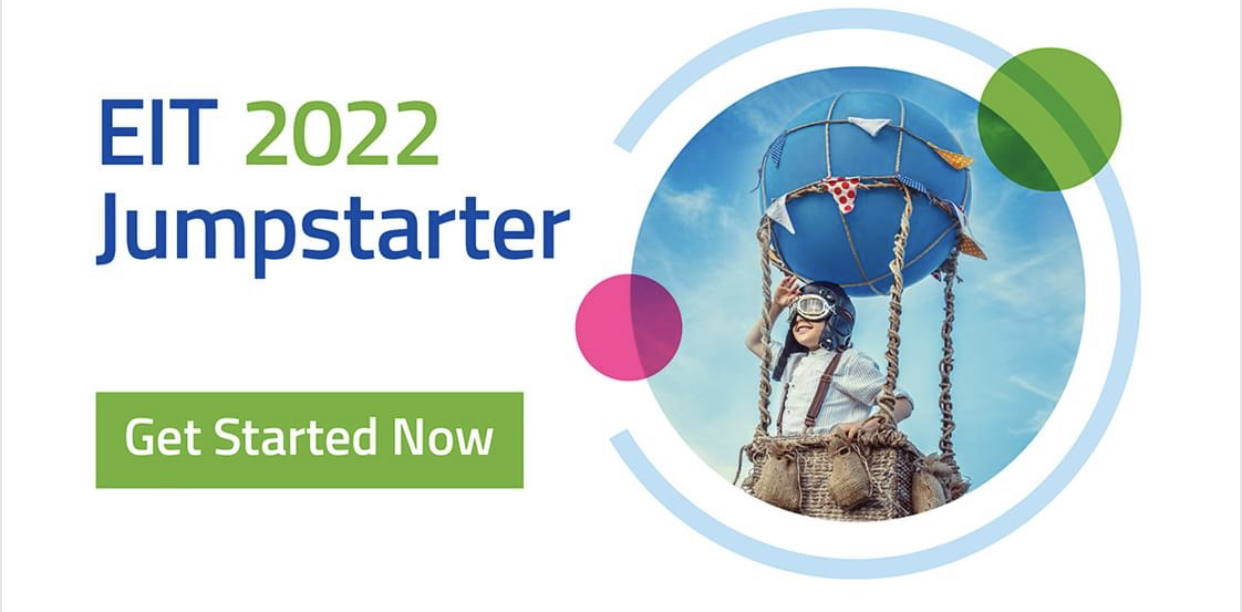 https://apply.eitjumpstarter.eu/

AWARD-WINNING PROJECTS
NAAEV PROJECTS
2020/2021 & 2022
SRB-UM-HUB
Serbian Urban Mobility Hub
SrbUM Hub project aims to establish an Urban Mobility Hub in Serbia and to be a backbone of local KIC. The Hub will focus on creating a framework that supports any similar UM initiative on local and national levels through raising awareness on making urban spaces more liveable. Following the EIT approach by connecting, educating and accelerating, this will be achieved by organizing frequent meetings with authorities, public and stakeholder surveys, TV and other media appearances. The innovation potential in Serbia will be mapped through stakeholder surveys and joint workshops, and Serbian cities encouraged to join Pan-EU City Club. Also, one of the aims of the Hub will be the promotion of enhancing formal education concerning UM, as well as permanent assistance in fundraising and project implementation.
For whom: The Hub will network knowledge triangle (education, research, and business) with national and local authorities, city governments and municipalities.
Expected benefits: Citizens will benefit from healthier city environments. Indeed, citizens of major cities in Serbia in particular in Belgrade are suffering from long-term air pollution caused by UM. The Hub will fill the gap on a lack of systematic solutions for organized actions that would improve the quality of life in cities enabling an easier transition to new modalities of UM. National and local authorities would benefit from reaching inclusive, green and prosperous additional benefit from SrbUM Hub would be an opportunity for job creation in the mobility sector.
Main outcomes:  Panel discussion on issues raised through mobility survey – moving towards solutions Green Mobility event / Serbian UM workshop /  Forum on new business opportunities
Next steps: The HUB will continuously assist stakeholders in the search for systematic, integrated, user- centric solutions in UM of people, goods, and waste by finding EU and national funding sources and assisting them in project implementation.
MAY – D
MeAndYou Distrbution – citizen engagement in last mile distribution to emprove urban logistics
The project MeAndYou Distribution aims to employ everyday urban mobility of individuals in the last mile distribution, as in some cases citizens could deliver goods (using cars, bicycles, walking,…) from senders to receivers on their way and help reduce traffic and air pollution caused by delivery vehicles. Within the project new smartphone application will be developed that will allow its users (senders, recipients, and deliverers) to participate in crowd delivery. The APP will incorporate options for ride-sharing, additionally increasing environmental benefits of its use. Through the client application senders and receivers will create delivery tasks (defining time, start & final destination and the cargo). The platform will then choose a deliverer that has the closest match to the parameters of tasks. Green points, financed from the City fee, awarded to users for their eco-friendly behaviour, may be turned to, for example, concert or theatre tickets or free parking. This project will be realized by higher education and business partners from two different RIS countries, and application testing will be performed in a living lab RIS SEE city.
Within MAY-D project new APP will be developed that will allow its users (senders, recipients, and deliverers) to participate in "crowd" (one-to-one) delivery. The APP will incorporate options for ride- sharing, additionally increasing environmental benefits of its use. The cost of a single delivery will be paid either by senders or recipients, and will consist of the delivery fee (paid to the deliverer), EIT support fee (paid to EIT as the supporter of the project), the consortium fee (distributed between members of the consortium, without the City) and the City fee.
Green points, financed from the City fee, awarded to the APP users for their eco-friendly behaviour, may be turned to, for example, concert or theatre tickets, and in case of ride-sharing in exchange for, for example, free parking. The advertising through the APP will be supported and will bring additional income for the consortium and EIT UM.
For whom: The potential users of the APP are cities and its individual citizens (receives and deliverers), and delivery and other companies (senders).
Expected benefits: All users will have the benefits via Green points, delivery companies will decrease their costs (no unattended deliveries and less vehicles on the streets) and cities would reduce traffic and air pollution.
Development plan: Online surveys on the needs of potential users. The APP development and programming considering results from surveys. Pilot implementation in real conditions and launching of the APP. The APP promotion and smart urban mobility awareness raising. Writing of the Business plan to summarize all these activities.
After the Activity: The APP will be further improved, commercialized, and promoted to the interested parties on the local as well as European market.
UrbanDRONE scheduler
Real-time scheduler for drone based services in urban areas
The project urbanDRONEscheduler aims to deliver a real-time digital platform for drone operation in an urban area, as well as in low-density or cities on inaccessible terrain. The platform consists of the Drone Flight Control Center (DFCC) supervised by city authority on the server-side, and APP/HTTPS-based application on a client-side. Through the client application, the drone user is requesting a ride defining time, start & final destination and the cargo. DFCC is approving corridor routes in real-time based on risk analysis, taking into consideration drone performance, external factors such as weather conditions, and cargo list. During the flight, DFCC is monitoring drone ride by the Global Navigation Satellite System (GNSS) with continuous flight auditing and management on possible enforcement interface.
For whom: Primary users of DFCC and the APP are citizens, city goverments and delivery companies in low-density or cities on inaccessible terrains, as well as citizens with walking disabilities.
Expected benefits: The platform for drone operation is eco-friendly, and will be adaptable to different urban conditions, making it good last-mile solution. The use of unmanned drone services would certainly be beneficial for citizens in low-density or cities on inaccessible terrains, or, in the case of a pandemic, to everyone.